Sinai Lab from Academy of Internet Finance (AIF), Zhejiang University,
in partnership with
The Cambridge Center for Alternative Finance (CCAF),
Zhejiang Association of Internet Finance(ZAIF)
TongBanJie Financial Technology Group
are pleased to release the Global Fintech Hub Report with the key findings as below.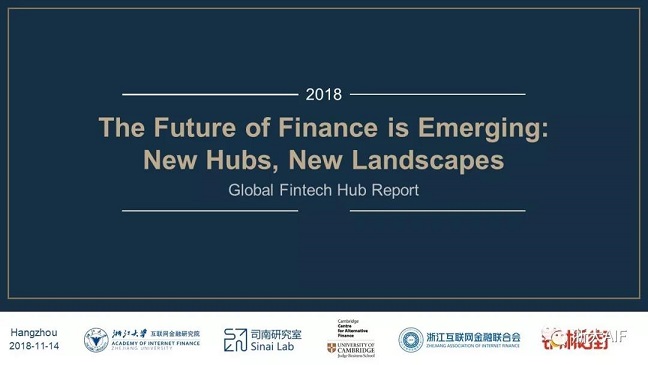 As a new promoter for the global economic and financial development, Fintech is becoming a focus for each country to ignite their economy, and a new Fintech landscape is emerging. At the same time, there is a growing awareness of the importance of regulatory capabilities, innovative environment, and the availability of digital infrastructure, which may be fundamental for the sustainable development of Fintech.
Since the first launch of the Global Fintech Hub Index (GFHI) 2018 in Amsterdam in June, AIF Sinai Lab, in partnership with the CCAF, ZAIF and TongBanJie released the 2018 Global Fintech Hub Report, continued to broaden our observation scope, and studied more than 70 cities in 6 continents.
Time is what we cannot lose, and opportunity is what we cannot miss. A slogan for the new Fintech era is more integrated, more generous, and more borderless, as well as the good wishes for an inclusive financial system where "everyone is born equal", are calling us to seize the moment, be brave to lead, and to create a new world.
Ø Sketch a "30+N" Global Fintech Landscape Hierarchically
This report considered the Fintech development in each global major city through an index. The TOP30 are selected and named as Global or Regional Fintech Hubs; at the same time, it identified other cities as Emerging Fintech Hubs. It is the first innovative attempt at sketching a "30+N" global landscape of Fintech development.
Ø Illustrate Fintech Portraits of More than 70 Cities Chronically
Within this report, the historical evolution of Fintech markets in more than 70 cities are chronicled and quantified. Moreover, This report zoomed in to present 55 of these cities, holistically identify and assess the areas for improvement in Fintech industry and hopefully to reveal opportunities and directions for future development in a comprehensive way.
Ø Upgrade Index System as to Quantify the Digitalization of Traditional Financial Sector
2018 is a year of awakening, since the traditional financial sectors have unanimously recognized the importance of technology, and became a major boost to the development of Fintech industry. This report captured this trend and try to innovatively quantify it by including the digitalization of traditional financial sector into the index.
1. 7 Global Hubs, 23 Regional Hubs
The TOP30 cities worldwide can be categorized into "Global Fintech Hubs" and "Regional Fintech Hubs". The Global Fintech Hubs are Beijing, San Francisco, New York, London, Shanghai, Hangzhou and Shenzhen. Out of the top 7, 6 are in Asia and Americas. Out of the 23 Regional Fintech Hubs, 15 are in Asia and Americas, only 7 are in Europe. Generally, Asia and Americas are leading the global Fintech race, while Europe seems to be falling behind. Further, many Emerging Fintech Hubs are located in Asia and Europe; relying on their advantages such as huge markets, large proportion of young people, financial repression and strong government support, they may find breakthroughs and catch up finally.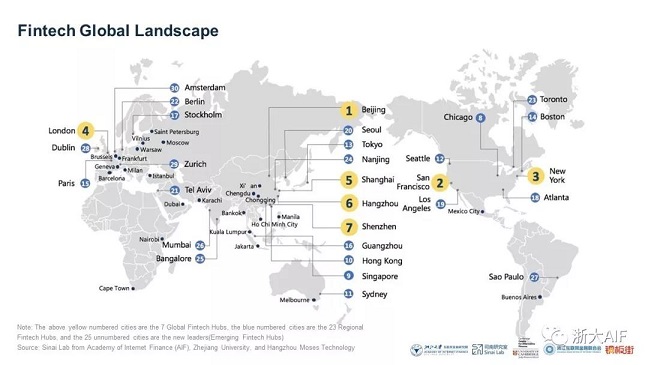 2. Each Country Attaches Increasing Importance to Regulation, However the Regulatory Capability in Developing Countries may Become a Hindrance
Since the UK first invented the regulatory sandbox, developed countries and regions such as Singapore, Australia, Hong Kong and South Korea began to experiment or implement innovative regulatory regimes. Developing countries like China, however, are experiencing an inadequacy of regulatory capabilities, where they encounter the dilemma of "regulation leads to the cessation of activities all together, but no regulation leads to a messy market". This situation has already impacted the performance of Chinese cities: although they did well in the rankings, the drop in their scores compared to the first indexing period is material.
3. Fintech Industry: Beijing Tops, China and USA Lead Fintech Industry Development
Chinese cities become the leader in the Fintech industry through having many world leading Fintech companies. With respect to Fintech Industry Ranking, 5 cities out of TOP10 and 7 cities out of TOP30 are in China, which is the only developing country out of TOP10. Beijing tops the Fintech Industry Ranking, with 58 leading Fintech companies whose total VC investment exceeding USD 50 Million. Hangzhou, in which Ant Financial is headquartered, becomes the city that has the highest total VC investment amount in Fintech industry globally. The USA is also leading Fintech developments, counting 3 positions in the TOP10, and tops the ranking in the digitalization of traditional financial sector.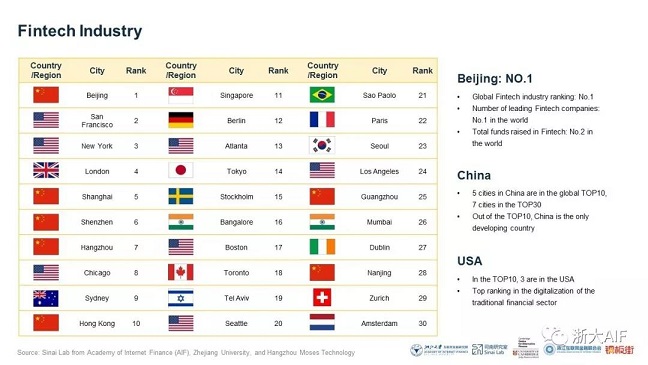 4. Fintech Consumer Experience: Increasing Percentage of Fintech Users Globally, China Leads
As Fintech overtakes the world, the number of Fintech users increases quickly. The TOP5 cities in Fintech Consumer Experience are all in China, where Hangzhou, famous as the "city of mobile payments" tops with a percentage of Fintech users at 91.5%. At the same time, India's rise is noticeable while Mumbai and Bangalore are both in the TOP10; the huge number of young people, the spread of smartphones and the rapid growth of marketplace lending are the main reasons for their good performance. Fintech satisfies the needs of finance for the masses in developing countries, meeting the original aim of financial inclusion.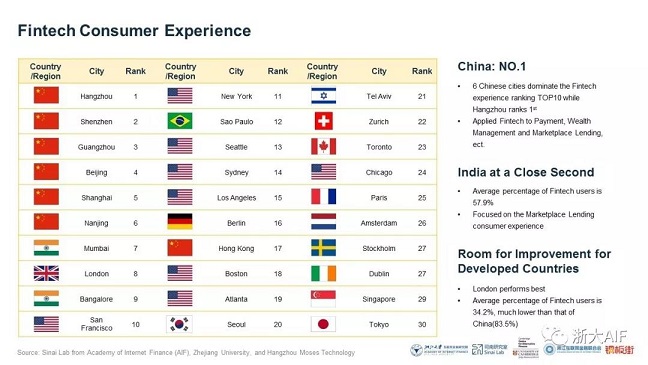 5. Fintech Ecosystem: Developed Countries Lead, New York, San Francisco and London are World Leaders
9 of the TOP10 cities in Fintech Ecosystem Ranking are in developed countries, where advantages such as developed economic infrastructure, strong technology capability, active innovation environment and high-quality regulation together provide Fintech development with fertile ground. Cities in developing countries, however, rank significantly lower in the Fintech Ecosystem Ranking. Other than weaknesses in macroeconomic, research ability and development strengths, the lack of regulatory capability may become another hinderance for their sustainable Fintech development.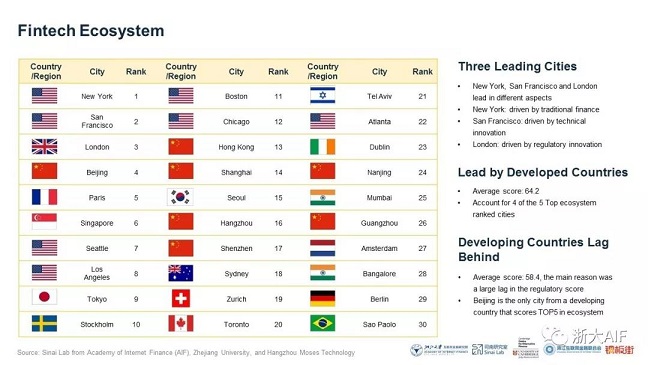 Global Fintech Hub Index (GFHI) targets on the three major market players including enterprises, consumers and government, trying to demonstrate the regional features of Fintech development.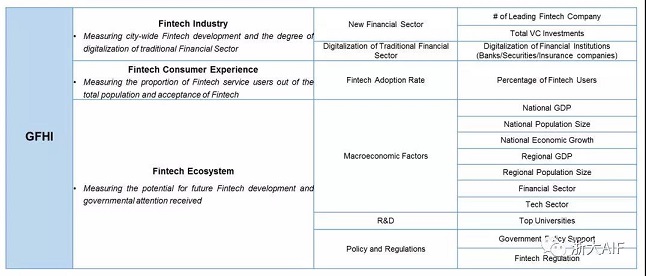 Academy of Internet Finance (AIF), Zhejiang University is headquartered in Hangzhou – One of the foremost Fintech hubs in China and the world. The first, and broadest, interdisciplinary research institute of its kind in China, AIF takes pride in the unrivaled connectivity with industry and government authorities, as it has served as the founding presidency of Zhejiang Association of Internet Finance, alongside Ant Financial, a global Fintech leader. Since its inception in 2015, AIF has taken a global perspective with its academic boards as among the most international of its kind with members hailing from leading institutions in China and abroad.
AIF Sinai Lab specializes in research and development of index products across a wide range of sectors, providing valuable insights for industry, government and academia.
The Cambridge Centre for Alternative Finance (CCAF) is a research institute established within Judge Business School at the University of Cambridge. The CCAF is dedicated to the study of alternative finance, which includes technology-enabled financial channels and instruments that have emerged outside of traditional banking and capital markets systems.
The CCAF conducts research across four broad, yet interconnected, research streams:
I. Online Finance Channels and Instruments which include crowdfunding, peer-to-peer and marketplace lending
II. Credit Analytics with New Forms of Data that can inform credit decision-making and related FinTech innovations
III. Payment Systems such as cryptocurrencies and distributed ledger technologies (e.g. Blockchain)
IV. Regulation and Policy in alternative finance (including regulatory technologies or RegTech)
Founded on September 29, 2015, Zhejiang Association of Internet Finance (ZAIF) is an industry association to promote the development of internet finance ecosystems in Zhejiang—one of the most dynamic Fintech hubs in China and the world. Academy of Internet Finance (AIF) of Zhejiang University, Ant Financial Holdings, and China Zheshang Bank are joint founders of ZAIF and serve as its co-chairs.
Established in September 2012, Tongbanjie Financial Technology Group is the leading Internet financial information service provider in China. Tongbanjie always adheres to providing equal, transparent and efficient financial services to small and micro businesses and individuals by scientific and technological means. Its major identities include: Member of B20 finance group in 2016, Member of National Internet Finance Association of China and so on. Up to now, Tongbanjie has earned more than 60 million US dollars investment by IDG Capital, China Growth Capital, Legend Capital and other famous international investors. The accumulative transaction amount of the platform is more than 264 billion in RMB and the amount of users has achieved 12.6 million.
As an AI supported elite financial investment platform, Tongbanjie has three advantages: diversity, efficiency, and AI Empowerment. Taking advantage of big data and artificial intelligence technology, Tongabnjie provides extreme experience of selected financial assets, refined products and targeting financial service to customers with diversified financial demands to realize the whole life-circle demand management.
AIF Sinai Lab
LV Jiamin
Tel.: +86-571-88208901
Mail: lvjiamin411@zju.edu.cn
CCAF
Bryan Zhang
电话:+44(0)1223-339111
电邮:ccaf@jbs.cam.ac.uk
ZAIF
YU Ping
Tel.: +86-571-87952520
Mail: info@z-aif.com
TongBanJie
Huang Na
电话:+86-571-87356435
电邮:nala@tongbanjie.com