近期,网贷问题平台逾期、清盘以及跑路的消息不断,得到了中外媒体的广泛关注。浙江大学互联网金融研究院(简称浙大AIF)院长贲圣林教授在接受《Financial Times》(英国金融时报,1888年创办的世界著名的国际性金融媒体,为读者提供全球性的经济商业信息、经济分析和评论)采访时表示,一些网贷平台"爆雷"是由于一些人打着"互联网金融"的幌子从事非法的行为。
Sports stadiums taken over to process complaints as customers rush to withdraw cash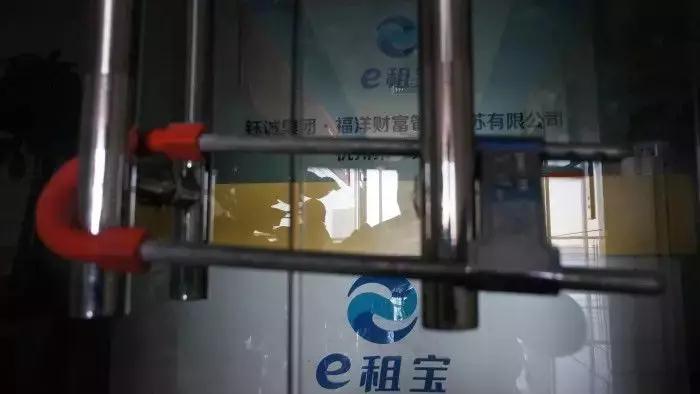 The locked doors of Hangzhou-based peer-to -peer lender Ezubao, after it was closed down because of fraud in 2015. Now a fresh wave of P2P companies have run into trouble © AFP
Gabriel Wildau in Hong Kong and Yizhen Jia in Hangzhou JULY 22, 2018
A wave of defaults is sweeping across China's Rmb1.3tn ($190bn) peer-to-peer lending industry, causing investors to withdraed "problems" since the beginning of June this year, compared with 217 such cases in all of 2017, according to Online Lending House, a research group that tracks the industry.
The group defines "problems" as investors being unable to withdraw money, police investigating a platform, or owners running away.
In the wealthy city of Hangzhou, local officials converted two sporting stadiums into makeshift welcome centres where various district-level petition bureaus — the traditional channel for Chinese citizens to file miscellaneous grievances — could receive complaints from P2P investors. Hangzhou is best known as the headquarters of Alibaba, its finance affiliate Ant Financial, and other fintech groups.
At the end of June there were 1,836 online lending platforms operating in China. The industry, the largest of its kind in the world, channelled loans from 4.1m investors to 4.3m borrowers in June alone, according to Online Lending House.
"I had some friends in finance who said I had to be careful, but because I had used it for so long I felt that I could trust the app," said Sarah Chen, 32, a consultant in Shanghai who invested Rmb290,000 in a platform called Zhuaqianmao, a P2P platform. Its name translates as "money grab cat".
She said she was unable to redeem her investment when it matured on July 16, adding: "I went to Huangpu [district in Shanghai] police to report my case and saw many, many people reporting cases — from other apps, too, not just Zhuaqianmao."
"A fair share of the recent P2P thunderstorm comes from lawless people operating under the guise of internet finance to commit fraud",
Ben Shenglin, Zhejiang University
A security guard at one stadium in Hangzhou said many people had come to complain about Zhuaqianmao. The company did not answer calls seeking comment, while photos on social media showed the locked doors of its Hangzhou headquarters with a notice from police saying that the company was under investigation.
"A portion of borrowers have maliciously fled their debts, while some false rumours and inappropriate reports have misled public opinion, causing investor confidence to fail," the National Internet Finance Association, a government-backed industry body, said in a statement last week.
Industry experts believe the recent wave of defaults reflects a combination of regulatory failures, outright fraud and the impact of a broader debt-cutting campaign that is cutting off liquidity to shadow banks and weak borrowers.
Such borrowers may rely on P2P loans alongside other financing sources. If banks or other financial institutions cut lending, the impact can spark defaults on P2P loans to the same borrower.
"A fair share of the recent P2P thunderstorm comes from lawless people operating under the guise of internet finance to commit fraud," said Ben Shenglin, dean of the academy of internet finance at Zhejiang University in Hangzhou.
"Beyond that, overall economic conditions have deteriorated, and then you add the impact of the deleveraging campaign, which means some legitimate platforms can't find a profitable niche."
查看更多内容:https://www.ft.com/content/75e75628-8b27-11e8-bf9e-8771d5404543