AIF at Zhejiang University together with Hangzhou Linghao Science and Technology Co Ltd.,
TAB U.K. and BBD UK jointly announce the launch of CAMFI
July 24, 2017, Zhejiang University AIF as academic adviser, together with Hangzhou Ling Hao Technology Co., Ltd. (JZT Data), TAB U.K. and BBD UK (from London and Hangzhou) jointly announce the launch of the world's global Crowdfunding and Marketplace Finance Index, referred to as CAMFI. The index will be released every month on 23th, GMT 10:00 AM.
Crowdfunding is a new type of financing in which the project sponsor publishes a project or request to investors using the Internet in exchange for debt, equity, or a physical good or service ("rewards"). The industry can therefore be sub-divided by financing type into debt, equity, rewards and other products. In recent years, both the domestic and foreign crowdfunding industry has undergone rapid growth.
Compared with traditional financing, crowdfunding provides a more open platform for the project sponsor. Because this mode of online financing offers speed, a strong sense of participation, the diversity of communication channels, an open and inclusive cultural atmosphere, and a person-to-person transaction structure, it is highly innovative, which is the essence of the development of Internet finance.
CAMFI tracks the health of the global crowdfunding and Marketplace finance industry. It draws on financial and other essential features, and uses a diffusion index method. A diffusion index, also known as the expansion rate, offers economic indicators of the cyclical fluctuations on the basis of the determination of the expansion size of the variable at a certain point in time. CAMFI also uses the size of the industry, efficiency, transparency and three other categories including indicators and platform size, size of the transaction, the user size, financing rate, industry associations and other five indicators in the methodology. It uses big data techniques to quantify the various dimensions of the analysis, and establish a sustained and stable, wide coverage, representative global index.
In order to create an accurate and objective CAMFI, we consider the breadth and representativeness of the data. As of June 2017, CAMFI preparation process collected data covering more than 4,800 domestic and foreign public platforms (more than 2,800 domestic and foreign platforms, more than 2,000 foreign), covering the domestic since January 2017 to 2017 June sample data, foreign samples from May 2017 to June 2017.
As the first global index, CAMFI quantifies in the form of the index the latest trends in the global industry. CAMFI will be the "barometer" for the development of the industry, and provide a reference point for the overall trend of the industry, to assess the industry, and provide the basis for the individual and institutional investors, and for policymakers and governments.
CAMFI comprises three sub-indices: the Debt sub-index, the Equity sub-index and the Rewards sub-index, which together reflect the development of the global industry. CAMFI and its sub-indices fluctuate around 100; more than 100 shows that the industry is in a state of health and expansion, less than 100 shows that the industry is in a state of contraction. The greater the index measure for the month, the greater the degree of health expansion of the industry. Figure 1 below shows the CAMFI for May and June 2017.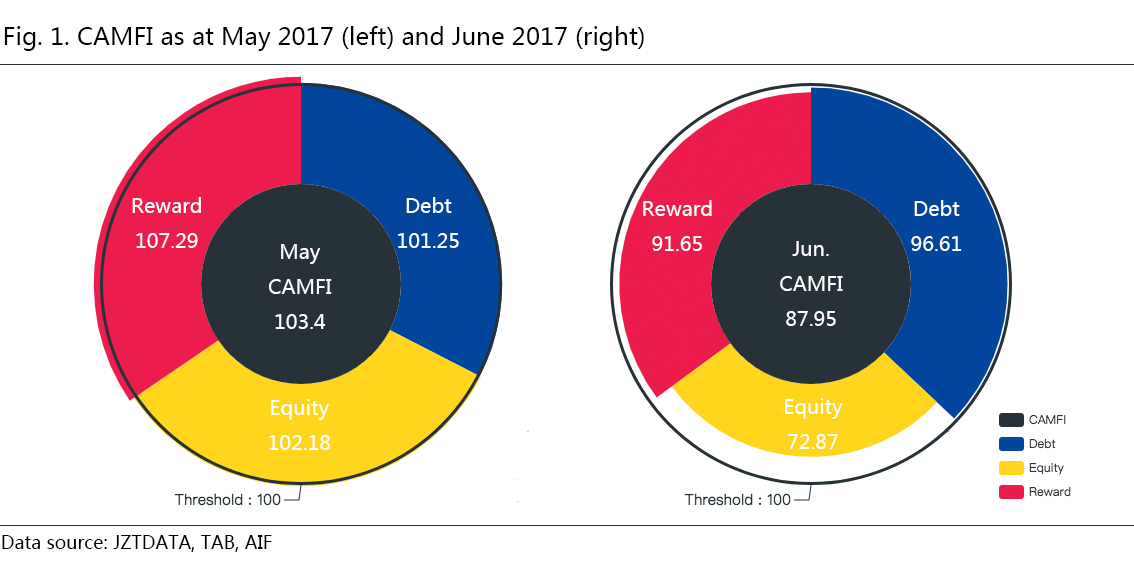 Based on CAMFI results shown in Figure 1, four conclusions can be drawn:

The global industry was as a whole down in June. CAMFI show that in June the global crowdfunding industry showed overall downward trend: down from 103.40 in May to 87.95, therefore industry is in contraction in June. In June the debt sub-index dropped to 96.61 from 101.25 in May, the rewards sub-index dropped to 91.65 from 107.29, equity moved from 102.18 points to 72.87.

The overall size of the industry experienced a contraction, of which equity contributed significantly. In June in all three sectors, deal size decreased, resulting in a slight decline in the total industry, hovering at 100. The equity market in June fell sharply, perhaps due to the regulatory equity crowdfunding market accelerating the process of improvement. The contraction of scale was present across all three sectors.

The overall efficiency of the industry declined significantly in June compared to May, with debt and rewards leading. Compared with May, the financing rate of the debt and rewards sectors fall sharply in June. The decline in the financing rate of the debt sector is mainly due to the decrease of the average full-scale rate of the market.

Transparency changed little, with the debt sector showing a slight improvement. Compared to May, information disclosure in June was similar, and more is needed to rectify the information asymmetry within crowdfunding industry.

The index will be released at 10:00 (BJT) on the 24th July and is jointly launched and owned by Hangzhou Linghao science and technology co. (JZTData), TAB U.K., and BBD UK. CAMFI will be released in London and Hangzhou simultaneously for the first time in July 24, 2017. After which we will release the previous month's index on the 23st of the succeeding month. The index report describes the detailed index for the month and is published at Zhejiang University AIF official website (URL), JZTData official website (http://www.jztdata.com/jzt-web/exponential/exponential_index.html) and TAB U.K. (insidetab.io).

Professor & Dean, Academy of Internet Finance, Zhejiang University Ben Shenglin comments on the CAMFI:
"Since its inception in 2005, Marketplace Finance has grown across the world in volume and variety, and the platforms have developed in various forms and shapes globally due to different market and policy environments. Standardization is a key opportunity for industry players, investors, regulators and academia. Having an index to capture the overall development of the sector is something desirable but to develop one is an extremely daunting challenge because the availability, integrity and comparability of the data are notoriously poor across various markets. I am pleased that three companies from China (the largest market) and U.K. (the birthplace of the industry) have joined hands to tackle this challenge thanks to their collective strength and wealth of data they have accumulated over the years. Academy of Internet Finance is proud to have served as the academic advisor for this ground-breaking initiative. Though the index is not perfect just as the industry itself is not, it is a great start and can serve as a barometer of the sector providing useful guidance for the industry stakeholders."
Academy of Internet Finance (AIF), Zhejiang University is headquartered in Hangzhou, one of the foremost fintech hubs in China and the world. The first, and broadest, interdisciplinary research institute of its kind in China, AIF boasts the unrivaled connectivity with industry and government authorities. It has served as the founding presidency of Zhejiang Association of Internet Finance, alongside Ant Financial, a global fintech leader. Since its inception in 2015, AIF has taken a global perspective with its academic boards as among the most international of its kind with members hailing from leading institutions in China and abroad. AIF Sinai Lab specializes in research and development of index products across a wide range of sectors, providing valuable insights for industry, government and academia. AIF Marketplace Lending Lab aims to take full advantage of its interdisciplinary nature to focus on the Marketplace lending industry worldwide, and provides fundamental data and decision reference for players, supervisors and consumers..

About Hangzhou Linghao science and technology co. (JZTData)
Hangzhou Linghao science and technology co., LTD (JZTData) is a highly innovative FinTech company specialises in providing data and analytics for the future finance industry. Through its cutting edge big data and artificial intelligence technologies, based on accumulated data from more than 6000 P2P Lending, 2000 Banks, and 500 crowdfunding platforms, JZT Data offers comprehensive solutions that helps regulations, researchers and investors to access reliable data, support effective risk management for better investment management as well as improving on regulatory development.
TAB U.K. interprets billions of financial data points from thousands of crowdfunding and P2P platforms globally every day – allowing you to identify new opportunities and make better decisions within a disruptive asset class. We cover high growth debt, equity, rewards and other platform types across all geographies. Our service delivers powerful deal-level granularity and micro-to-macro analytics capabilities, with best-in-class data visualisation, personalisation, search and filter functionality built in.
BBD UK is a leading big data solutions provider, committed to the development of big data technology finance solutions for institutional investors, banks, service providers and policy and regulations department. BBD provides accurate and timely data analysis tools. Focusing on the new economy, through dynamic adjustment to make, credit ratings, risk pricing and economic indicators in four steps, BBD provides large data services from micro to macro.

AIF
Luo Dan
Tel. +86-571-88208901
Email zjuaif@zju.edu.cn


Hangzhou Linghao science and technology co. (JZTData)
Mao Qingqing
Tel. +86-571-87209876
Email service@jztdata.com
TAB U.K.
Tom Farthing
Tel. +44(0)207 580 6502
Email tom@toplinecomms.com

BBD UK
Helen Wang
Tel: +44 (0) 750 261 8881
Email: helenwang@bbdservice.com

Crowdfunding and Marketplace Finance Index (CAMFI), is academically guided by Zhejiang University AIF, which is jointly launched and owned by Hangzhou Linghao science and technology co. (JZTData), TAB U.K., and BBD UK. CAMFI will be released in London and Hangzhou simultaneously for the first time in July 24, 2017. After which we will release the previous month's index on the 23th of the succeeding month.
指数报告下载:全球众筹指数CAMFI(试行版)
指数报告下载:2017年6月全球众筹指数CAMFI(试行版)分析报告(中文版)
指数报告下载:2017年6月全球众筹指数CAMFI(试行版)分析报告(英文版)