时光飞逝,转眼我们将迎来2019年。
秉承"3个I" 即
International (国际)
Interdisciplinary (跨界)
Innovative Incubator(创新孵化)
的发展理念,浙江大学互联网金融研究院(浙大AIF)在2018年开展多项国际交流与合作,发布多项研究成果,着力推进政产学研一体化发展!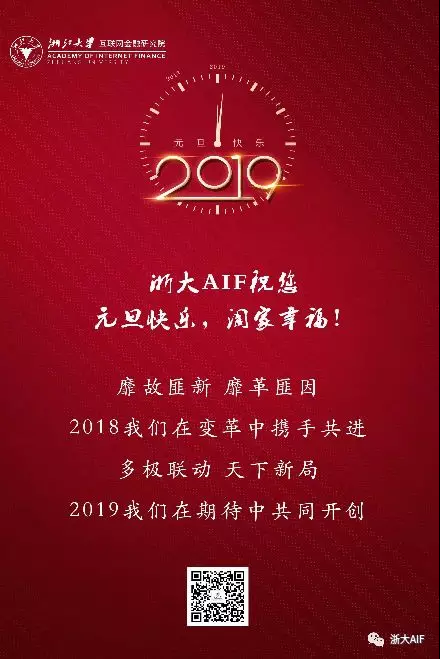 在此,感谢社会各界对浙大AIF的关心与帮助,值此新年之际,我们为您推送浙大AIF院长、国际联合商学院(筹)院长在普莱斯蒂亚·穆理亚大学(Universitas Prasetiya Mulya,UPM)毕业典礼上的演讲。题目为"New Era, New Opportunities(新时代,新机遇)"。在这个日新月异的新时代,2019,浙大AIF与您在期待中共同开创!
---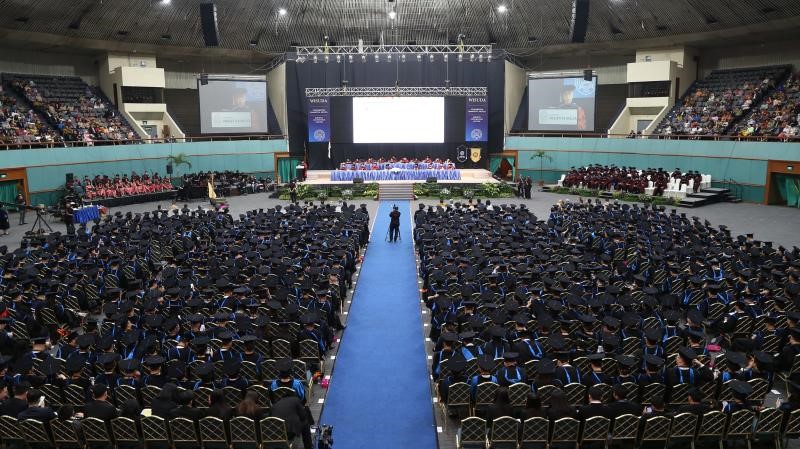 12月11日,贲圣林教授受邀参加普莱斯蒂亚·穆理亚大学(Universitas Prasetiya Mulya,UPM)毕业典礼并发表题为《New Era, New Opportunities》演讲。以下为演讲全文:
New Era, New Opportunities
--Pursue a Lifetime M.B.A.[1]
By Prof. Ben Shenglin, Zhejiang University
December 11, 2018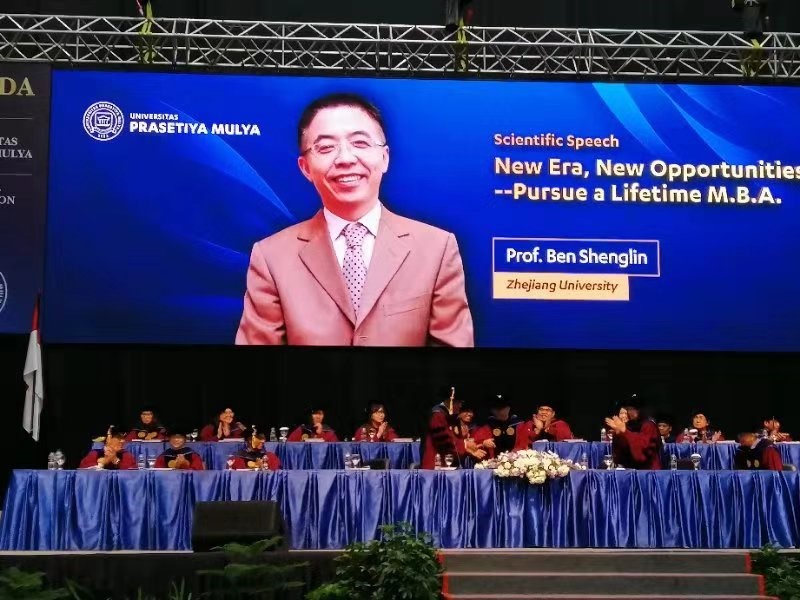 Dear Rector Dr. Djisman Simandjuntak, dear graduates, dear parents, family and friends of UPM, ladies and gentlemen, selamat pagi! Good morning!
It is a true honor to be speaking here at UPM's commencement ceremony! 
When I got the invitation from Rector's office in September, humbly and quickly I accepted it, because I knew such an opportunity is precious for everyone, even more so for me!  
The reason I quickly accepted the invitation is that I did not want Rector's Office to withdraw the invitation after finding out that I was not a top student at university. This is what I have learned in life: when there is an opportunity, grab it before it is gone!
So I want to thank you for inviting me and for not rescinding it. 
Today is a special day for us all! 17 years ago, I was awaiting anxiously in St Mary's Hospital in London the birth of my first child and daughter Marilyn. Happy Birthday Marilyn as you celebrate your birthday.   
Today is a special day for me as a proud parent, and I know that it is even more special and important for all the proud parents in the audience.  
So first of all, please allow me to congratulate the parents on successfully fulfilling your responsibilities, having paid all the bills for their education. It is a big moment of relief. My wife and I envy you, as we still have a few more years to go before reaching this milestone. As a parent, I know that most, if not all, of you do not expect a financial return for yourself from your children's education, but I also know that you do want some return for your children and the society. UPM graduates are expected not just to do well for themselves, but also to contribute more to the society.   
I also want to congratulate the UPM staff and faculty leadership for your patient coaching and inspirational teaching. As a professor myself, I know how difficult it has become to be a good teacher nowadays, not to mention being a professor in UPM with as smart and demanding as Class 2018 are.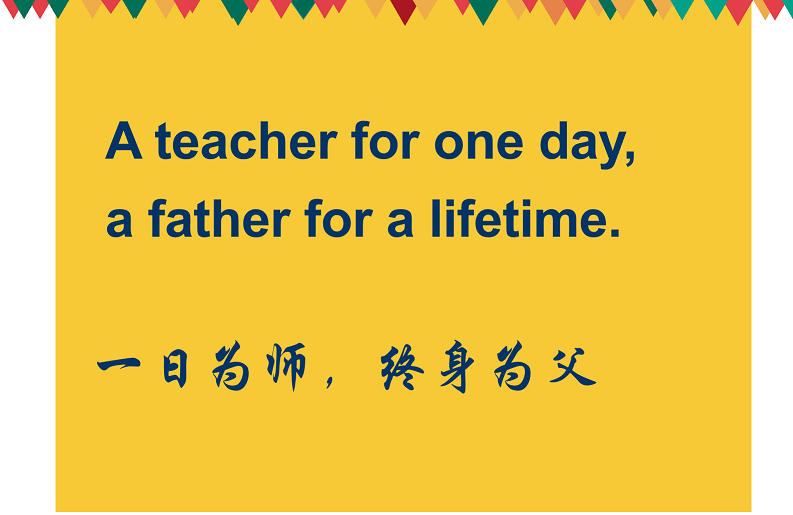 Ladies and gentlemen, in our shared Asian cultures, being a teacher commands a lot of respect and means a lot of responsibility. For example, there is a Chinese saying: 一日为师,终身为父; a teacher for one day, a father for a lifetime. It is a lot of responsibility for both the teacher and student, there are a lot of mutual expectations about this relationship.  
Last but certainly not the least, I want to say my warmest congratulations to all of you the graduates, whether you have thrived or survived these years here at UPM. I know UPM is a tough university to get in and still tougher to get out.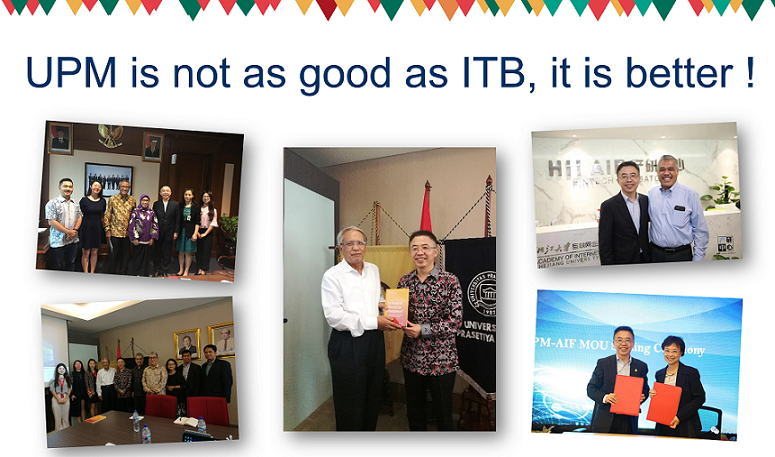 In September this year, when I visited Indonesia for the first time to explore collaboration opportunities with top universities. My friend Flora Gu and Kaka, the former President of ITB and State Minister of Science & Technology recommended UMP and they told me that UPM is as good as ITB, I believed them, but now I beg to disagree. UPM is not as good as ITB, it is better.   
Today is your big day, if not your biggest day. You deserve all the celebration and congratulations. While celebrating your past achievements, you're already looking forward, with a lot of confidence and probably a bit of anxiety into the future. 
Do you know that you are a lucky generation, compared to my generation? The world is more prosperous and peaceful in general than before, you have Wi-Fi while we did not even have electricity, you have Go-Jek while I hardly saw a bike; you have more friends across the world thanks to internet, you have more voice about who should be your political leader, and you have more choices about what kind of career you want to pursue, where you want to live, whom you want to marry, etc. In short, you have a lot more freedom, which is a luxury and privilege that we did not have. Lucky you!  
However, at the same time, you are not as lucky as we were. The New Era you are entering as a graduate happens to be a New Era for the society at large. The sweeping technological advancements are disrupting, redefining and reshaping the relationships between nations, governments and people, employers and employees, teachers and students, human beings and machines.
In this New Era, you are confronted with many challenges which we did not have to deal with. For example, you will have to compete globally for jobs and increasingly with robots. Many previous good jobs and professions have disappeared or are going to disappear. Even if they still exist, they look very different now with lower pay, less stability, fewer upward mobility opportunities in the future. The expectation for a stable lifetime employment that our generation had has suddenly become such an unrealistic goal. 
It is safe to say that the moment you are leaving this fine university, some of the knowledge and skills you have learned here need to be updated and even become obsolete. So how can you thrive or at least survive in this fast-changing New Era? My advice is that you need to get another MBA, a different and a lifetime MBA. 
Some of you might say I just got my MBA, why do I need another one?  
For those of you who are just graduating with a bachelor's degree, you might wonder whether or not a MBA is still worthwhile given that MBA as a degree has become much less valuable globally. As Dean of International Business School at Zhejiang University, I have been thinking a lot about the value proposition of a business school in this new era, talking a lot to the leading business school professors, administrators and corporate recruiters. The feedbacks are unanimous and worrisome. I can confirm indeed business schools are facing unprecedented challenges, some of which are threatening their very existence, not to mention the survival of the flagship product - MBA program. This is a topic I should reserve for another occasion.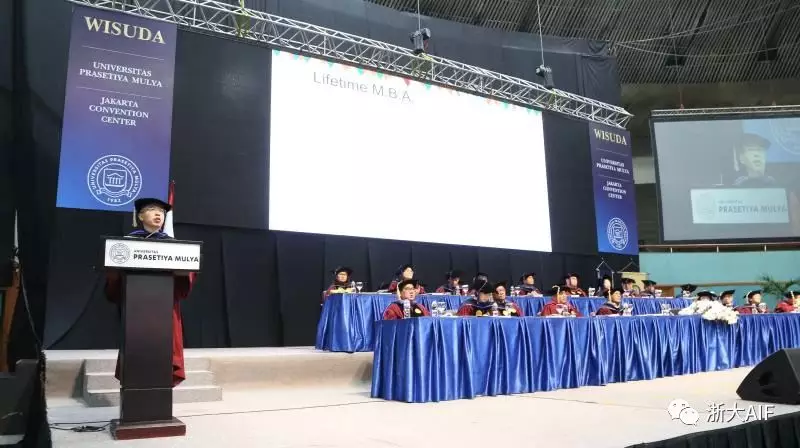 What I propose today is a different M.B.A., a Lifetime M.B.A!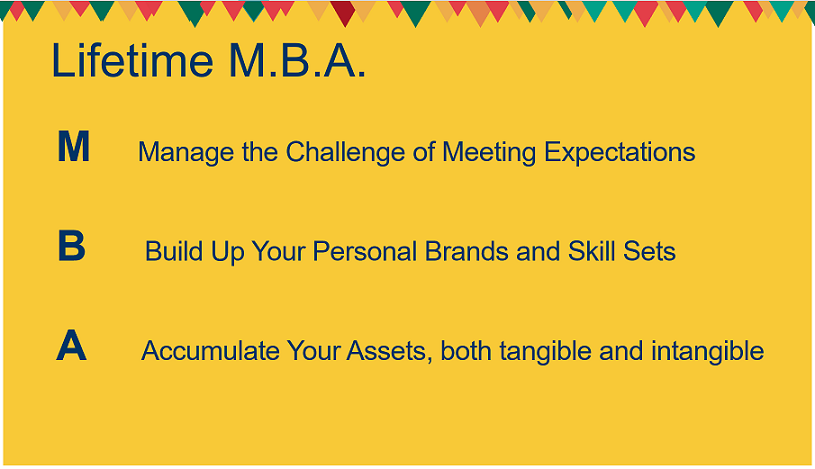 Let me start with M: Manage The Challenge of Meeting Expectations 
In 1993, I was studying for my PhD in the USA and I received a postal letter from my father back in my home village in China. My father was not well-educated, but apparently he managed to ask someone to help him write a long letter, it actually was more than a letter, it was a powerful essay with the what-why-how structure: The "what" is simple: Asking me to remit money home. Why? The family needed money, the neighbors were doing better, we were not able to keep up with the Jones. Believing that US was full of gold, they expected me to send money home, immediately. It was an emotional letter, it was a struggling moment for me as a PhD student who was living on the not so generous "graduate scholarship". Unlike Yudi who studied Chemical Engineering, something more useful in Purdue, he could find a part-time job even in the middle of nowhere, a place called West Lafayette, Indiana, my major was Economics and I did not know how I could earn some extra money with this major. Of course I did not and do not mean economics was useless, but I felt useless, I felt so bad that I was not able to help my family, and my failure to meet their expectations when they needed most agonized me for many months and years.  
So I decided to return to China in 1994 immediately upon my PhD studies, with the hope to do something useful and help my family. To my surprise, I received another letter, but this time from a relative, a long and well-written letter, arguing against my decision to return. From his perspective which was widely shared by most of Chinese at that time, I was expected to and I would stay in America upon graduation, find a job, earn then higher salary in US, save some and send them home. The letter was so convincing and persuasive that I almost changed my decision to return. Fortunately, I did not.  
On both occasions, I deeply felt the enormous challenge of managing and handling the social pressure of expectations from family and friends. With the benefit of hindsight, following their advice and meeting their expectations would probably have been a wrong decision. I can list many more stories in my life when I had to deal with the challenges of meeting other's expectations. While some expectations are well-intentioned and can be good and should be met, some others can become burdensome unproductive and even counterproductive, especially if not managed properly. 
Tomorrow, when you enter your New Era of Life, you will have to manage the challenges of meeting the expectations from your colleagues, former professors, classmates, family and friends. If you graduate with honors, congratulations, but their and your own expectations about your future would be higher and can become a burden.  
If you just manage to graduate as an average student, just like me many years ago, it may not be a bad thing since you can have the advantage of starting with lower expectations and pressure to succeed and you may stand a good chance of exceeding them, as it will be more difficult to fall short of the already very low expectations! 
Let me now move on to B: Build up your personal Brands  
I do not have to lecture you about what contributes to a good personal brand: honest, reliable, dependable; productive, passionate, positive, pleasant; optimistic, sharing credit, great team player; diligent and disciplined; takes leadership when required, self-driven...   
You all have taken economics class and learned the network effect. A brand requires the network support. So start building up your network of friends and mentors, as you will need them going forward for advice, friendship and support. In our New Era, cross-fertilization, cross-innovation and interdisciplinary collaboration are the way forward, having a diverse network of friends is critical to succeed. Therefore, make sure that you practice diversity in your network building, not just in terms of gender, but also across the different cities, different countries and cultures, different fields of expertise, different stages of their career or life. 
You all have studied finance and accounting classes. Like financial statements, your grades only represent the past and will become less and less relevant, discounted in value as time goes by until they become completely obsolete; what is worse, they may be incomplete or inaccurate reflection of your true capacity or potential, which is about the future.
Let me quote the lyrics of "Dream It Possible" one of my favorite songs, "The Past is Everything We Were, doesn't make us who we are or will be". 
Yes, your UPM degree is an asset, that gives you access to the alumni network, but your bigger, if not the biggest asset is that you are young, because people will give you the benefit of doubt, expect that you will make mistakes, and tend to forgive some of the mistakes you make when you are younger, so take advantage of their kind tolerance and generous offer! Do not be afraid of making mistakes, keep trying and learning from the mistakes.  
We all agree that personal brands are enormous intangible assets, and we know it takes a lot longer and a lot more effort to build than ruin it. It takes patience and perseverance, and it takes consistency and care, and it takes time, effort and wisdom. 
Finally, your lifetime M.B.A. will require that you ACCUMULATE your equity by acquiring new assets, both tangible and intangible. 
You all know a balance sheet. The assets are on the left and liabilities on the right. But assets and liabilities are sometimes not that clear-cut for our personal balance sheet, especially when it is about the intangible asset. In 2013 I had been planning to return to academia, but the opportunity cost to do so, from financial perspective, appeared so significant that I started questioning my own decision. My experiences and title as China CEO of one of leading global banks were and are still my very valuable asset for my personal balance sheet, intangible assets, but it had almost become a burden, a liability as it was constraining me from making the right decision to return to academia. Five years later, I can tell you today that I am proud of myself for not turning that asset into a liability.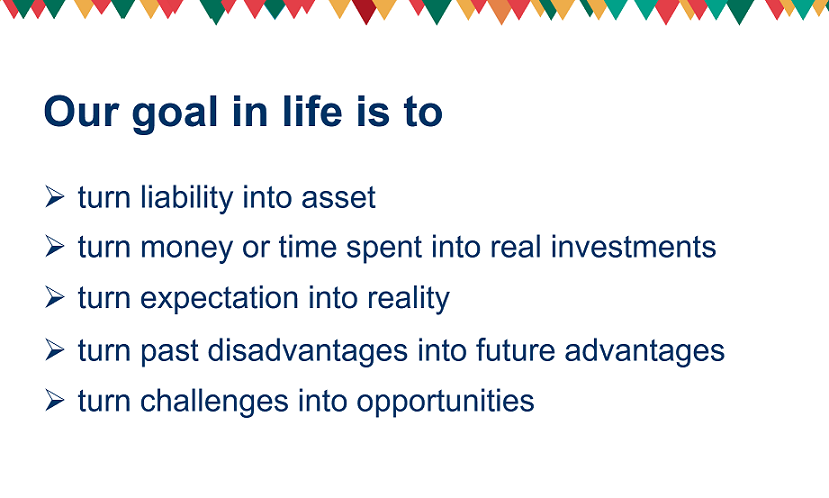 Our goal in life is to 
- turn liability into asset, not the other way around;
- turn money or time spent into real investments, not expense or cost; as building up our personal balance sheet requires investment;
- turn expectation into reality (not disappointment)
- turn past disadvantages into future advantages, not the other way around;
- turn challenges into opportunities, not crisis.  
Graduates of Class 2018, friends, ladies and gentlemen, there is one common denominator about education such as getting a UPM degree and investments. Both have the expectations for future return and reward. With future, you have the beauty of uncertainty, you have the luxury of making choices, and you have the need for prudent risk-taking.  
With future, there is no guaranteed success, but
 - if you want to not just manage the challenges of meeting expectations, but also aiming for opportunities to exceed expectations,
 - if you want to not just build up and maintain your personal brand, but also continuously consolidate and improve your brand
- if you want to accumulate your personal equity and assets, both tangible and intangible, not simply dissipate them 
Above all, if you want to contribute more to the society, then you must make continuous investments, throughout your lifetime, on your brand and on your capacity by keeping learning, building, networking, and challenging your comfort zone.  
If you do so, you will be successfully pursuing your lifetime M.B.A. and you will be rewarded handsomely in the future, so will be your friends, your family, your alma matar, and the society! 
Thank you!
---
[1] Graduation speech at Universitas Prasetiya Mulya, Jarkata, Indonesia.