Sinai Lab from Academy of Internet Finance (AIF), Zhejiang University,
in partnership with
Zhejiang Association of Internet Finance
are pleased to release the global Fintech hub index with the key findings as below.
As the saying goes, a single spark can start a prairie fire. In recent years, the Fintech boom has become an irresistible trend. It is rising and developing rapidly just like a single spark that can set the whole financial industry ablaze. Increasingly, Fintech is becoming a new driving force and engine of growth for global financial markets and economies by virtue of its accelerating technological iteration, diverse participants, ever-increasing consumer base, globalized market, real-time services, generally flat organizational structure and genuinely technology-driven features.
In the course of reshaping the global financial landscape, traditional financial centers are challenged by the inevitable necessity of fundamental transitions and transforms while new financial centers represented by regional Fintech hubs are emerging and evolving. Compared to traditional financial centers, Fintech hubs generally present stronger regional linkage and gradually integrate into cross-city communities which are normally endowed with an open economic environment, highly-efficient resource allocation capability and strong agglomeration and spillover effects. A global Fintech hub in the new era is no longer perceived as an isolated city, instead, it can be expanded to be an integral community of several cities, districts or even a financial highland established by several countries jointly.
The future has arrived. "More integrated, more inclusive and more boundless" is the mission statement of new Fintech era and "all men are created as equals" demonstrates the hope for common financial inclusion. Aspired and intrigued by the call of the mission, we are bound to work together on the reconceptualization of both "finance" and "hub".
About GFHI
Global Fintech Hub Index (GFHI) aims to portrait the global landscapes of the development of Fintech industry, to demonstrate the regional features of Fintech development and enhance the understanding with the emergence of global Fintech hubs at both regional and city levels.
01 The Index System:
GFHI is computed in the same line of thought with the compilation of the China Fintech Hub Index (FHI), with the latter based on the three major market participants including enterprises, consumers and government. Three primary dimensions, namely, Fintech industry, Fintech consumer experience, and Fintech ecosystem are defined in the GFHI system.
a) Fintech Industry: Measuring regional/city-wide Fintech development based on the number of leading Fintech companies and total venture capital investment, etc.
b) Fintech Consumer Experience: Measuring the Fintech adoption rate which is the proportion of Fintech service users out of the total population and the acceptance of Fintech services in various regions/cities judging by Fintech usage, etc.
c) Fintech Ecosystem: Measuring the potential for future Fintech development and governmental attention received on basis of regional macroeconomic performance, Research and Development(R&D), and policy and regulatory environment, etc.
02 Regions and Core Cities:
Over 20 global regions (including Greater Beijing, Yangtze River Delta, Guangdong-HK-Macau Region, Silicon Valley, Greater New York, Greater Tokyo, Greater London, etc.) and more than 30 core cities (including Beijing, Shanghai, Hangzhou, HK, New York, London, Paris, Amsterdam, Dubai, etc.) are selected as research objects. The top 17 regions and top 30 cities are selected for the compilation of GFHI.
03 Data:
Traditional data analysis techniques are employed in conjunction with big data technology. Besides, to ensure the representativeness of our sample, 13 categories of relevant variables are collated from a diversified but reliable range of sources, for instance, governmental publications, statistical yearbooks, websites of Fintech enterprises, total venture capital investment, etc. As regard to primary data, a comprehensive global Fintech survey is also conducted to obtain the multi-dimensional and quantified data on Fintech development in different regions.
04 Index Calculation:
The indices are calculated by using stratification and weighted average methods, which can be broken down into the standardization of raw data, the determination of weights, and stratified calculation.
Zooming in: Deeper Insights
Taking a closer look at GFHI 2018, it becomes clear that the new world order of Fintech has gradually come into shape. Asia and America are leading the global Fintech race, while Europe seems to be falling behind. Meanwhile, countries/regions involved in the 'Belt and Road' initiative have gone through a phase of accelerated Fintech developments. Developing countries are leapfrogging, and the dream of inclusive finance is closer to reality.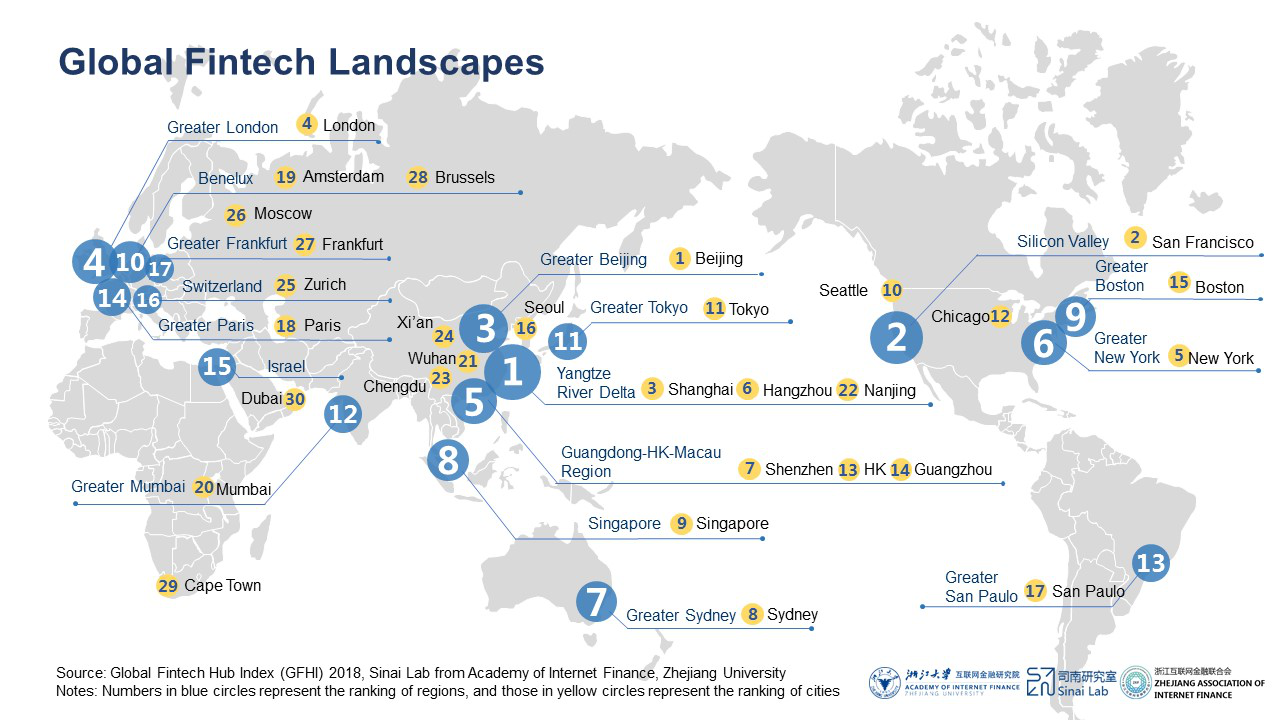 01 GFHI Regional Rankings
Ø The existence of a Fintech hierarchy in its global landscapes has clearly manifested itself in our findings. The tier 1 regions in terms of Fintech development, amongst others, are Yangtze River Delta in China, Silicon Valley in the USA, Greater Beijing in China, Greater London in the UK, Guangdong-HK-Macau Region in China and Greater New York in the USA. Three Chinese regions position themselves as tier 1 regions and China seems to be on its way to transcend other countries in financial development by developing its Fintech industry.
Ø According to Fintech Industry Index, Silicon Valley tops the ranking and ranks 1st in both the number of leading Fintech companies and total venture capital investment, followed by Yangtze River Delta, Greater Beijing, Greater London, Greater New York and Guangdong-HK-Macau region, etc. These regions all score above 70 in the Fintech industry index and proudly present themselves in the "Tier 1 Regions" camp.
Ø As indicated by Fintech Consumer Experience Index, the top three places are taken by three Chinese regions, followed by Greater Mumbai. In developing countries, the commonly observed financial depression has actually made it easier for consumers to be more open to Fintech services and the changes brought about by new technology. By contrast, Fintech consumer experience receives a lower score in traditional financial hubs such as Greater London, Silicon Valley and Greater New York, indicating lower levels of regional Fintech consumer adoption rate.
Ø According to Fintech Ecosystem Index, Greater London ranks 1st, whose pioneering sandbox approach has been an important breakthrough on Fintech regulatory innovation which renders experience for long-term global Fintech development and can shed light on regulatory conducts in other markets globally. The followed regions are reported as: Yangtze River Delta, Greater New York, Greater Beijing, Silicon Valley and Guangdong-HK-Macau Region, respectively. Macroeconomic performance in these regions have been more vibrant and healthier with their governments being particularly attentive and supportive to Fintech development. Besides, Benelux, Greater Boston and Greater Sydney have demonstrated evident advantages with their innovation- empowering university resources. Singapore, on the other hand, has performed well thanks mainly to its intensive government policy support and Fintech regulation.
Table 1 GFHI Regional Rankings 2018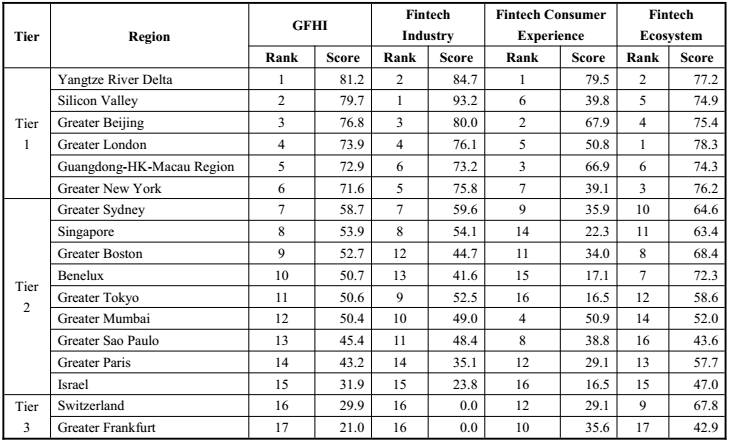 02 GFHI City Rankings
Ø Based on their extent of Fintech development, 30 core cities can also be categorized into three tiers: Beijing, San Francisco, Shanghai, London, New York, Hangzhou and Shenzhen are in Tier 1. These cities rank from 1st to 7th. Traditional financial hubs and technologically innovative highlands complement and enhance each other and together they have made the strongest voice in the history of global Fintech development. The second tier is composed of 13 cities (including Sydney, Singapore, and Seattle, etc.). These cities rank from 8th to 20th. The third tier includes 10 cities (including Wuhan, Nanjing, and Chengdu, etc.), ranking from 21st to 30th.
Ø With respect to Fintech Industry Index, San Francisco, Beijing, New York, London, Shanghai, Shenzhen and Hangzhou all score above 70 into tier 1. These cities are equipped with many Fintech unicorn companies, those which have created major momentums to their Fintech development.
Ø As is suggested by Fintech Consumer Experience Index, 9 Chinese cities dominate the ranking while Hangzhou ranks 1st. Its ubiquitous third-party payment, various forms of crowdfunding, marketplace lending and big data credit investigation have significantly changed every aspect of residents' daily life in China. Households' reception and openness towards Fintech have contributed to the momentums of Fintech development in China.
Ø According to Fintech Ecosystem Index, Beijing, New York, London, Shanghai, Shenzhen, Hangzhou, Singapore and San Francisco have established the best Fintech ecosystems across the globe. Well-functioned economy, proliferation of startups and favorable government policies have been great contributors to Fintech development in these cities.
Table 2 GFHI City Rankings 2018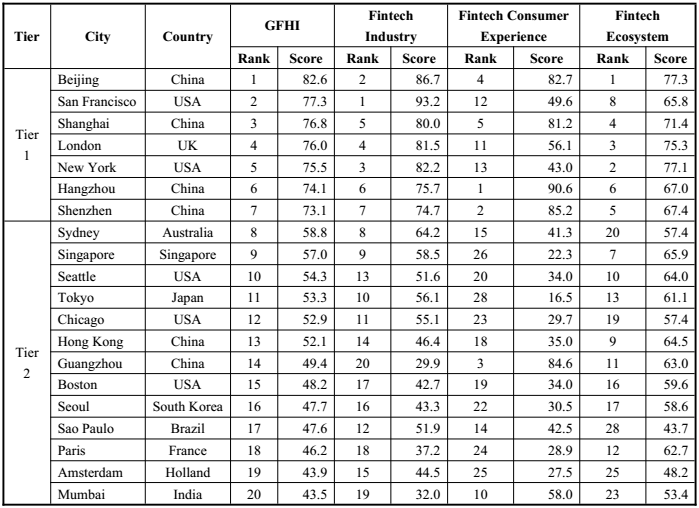 Main Contributions
With the computation and release of GFHI, the research aims to:
Ø Evaluate the state of Fintech development, both regionally and globally
Within the GFHI system, the historical evolution of Fintech markets in different regions and cities are chronicled and quantified, while both existing and potential Fintech hubs are identified and recognized. It is also believed that GFHI can be used to effectively measure and evaluate the geographical disparity of Fintech development and facilitate multilateral information sharing and knowledge dissemination.
Ø Orientate the Fintech development and provide insights for overcoming the weaknesses
GFHI is constructed based on data collected from three major types of stakeholders, namely, enterprises, consumers and governments. A subset of separate indicators focusing on each category of stakeholders are also created to reflect the specific challenges and difficulties they came across as a market player. GFHI can therefore be used to holistically identify and assess the areas for improvement in Fintech industry and hopefully to reveal opportunities and directions for future development in a comprehensive way.
Ø Promote good practices and foster financial inclusion
According to our study, many regions with the best practices of Fintech development have emerged in the wake of the increasing strategic importance attached on Fintech across the globe. GFHI can be utilized to promote those best practices, providing solid evidence for drawing international comparisons on Fintech development, and fostering the development of financial inclusion which can potentially benefit the society and humanity to the next level.
About AIF
Academy of Internet Finance (AIF), Zhejiang University is headquartered in Hangzhou – One of the foremost Fintech hubs in China and the world. The first, and broadest, interdisciplinary research institute of its kind in China, AIF takes pride in the unrivaled connectivity with industry and government authorities, as it has served as the founding presidency of Zhejiang Association of Internet Finance, alongside Ant Financial, a global Fintech leader. Since its inception in 2015, AIF has taken a global perspective with its academic boards as among the most international of its kind with members hailing from leading institutions in China and abroad.
AIF Sinai Lab specializes in research and development of index products across a wide range of sectors, providing valuable insights for industry, government and academia.